The University of Michigan is pursuing multiple interdisciplinary efforts in sustainability and advancing solutions to address human-influenced global climate change — one of the defining scientific and social challenges of our time. Planet Blue refers to the varied work in sustainability taking place at U-M. It represents all of the university's efforts toward promoting and creating a more sustainable future both on campus and around the world.

The primary Planet Blue brand is used for major U-M sustainability efforts that involve both research and operations and pertain to on-campus and global issues, such as the President's Commission on Carbon Neutrality. Importantly, sustainability at U-M is multifaceted — spanning research and operations and campus involvement — necessitating two sub-brands. Planet Blue Global Impact refers to relevant research, thought leadership and engagement beyond the university campus. Planet Blue Campus signifies sustainability efforts across U-M campuses, including operations and student and community engagement.
Planet Blue Global Impact
Planet Blue Global Impact represents U-M's sustainability-related research and academic programs, as well as larger initiatives. Primary partners in these efforts include all of U-M's schools and colleges, and in particular, the School for Environment and Sustainability, the Graham Sustainability Institute and the Erb Institute.
Planet Blue Global Impact Key Messaging:
Effective sustainability efforts need to be interdisciplinary, drawing from the natural, social and health sciences; the humanities; professions such as engineering, public health and social work; the social and business sectors; local communities and all levels of government.
Addressing sustainability challenges requires a multifaceted, global and urgent approach. Society must lead with science and elevate scalable and just solutions to ensure the future of the natural and built environments.
At the University of Michigan, researchers across disciplines and academic units are bringing their expertise together toward a more sustainable world.
Sustainability is multifaceted, and accordingly, U-M's sustainability research delves into a number of topics, including: Climate & Energy, Conservation & Restoration, Environmental Justice, Environmental Policy & Business, Food Systems, Human Health, Sustainable Infrastructure and Water.
There are more than 700 faculty experts working on sustainability-related issues across the U-M campus.
U-M offers more than 800 sustainability-related courses.
Planet Blue Global Impact — Logos
Download complete logo set here (.zip)
Included you will find:
Horizontal logos
Vertical logos
Social media marks – including a version with a white outline to be used on dark backgrounds
Planet Blue Global Impact — Marketing
Planet Blue Campus
Planet Blue Campus represents all of U-M's campus-focused operations and outreach efforts, including much of the work of the Office of Campus Sustainability (OCS), the Planet Blue Ambassador program, Student Life, Matthaei Botanical Gardens and Nichols Arboretum, the Student Sustainability Coalition, M Dining, the Campus Farm, the U-M Sustainable Food Program and others.
Planet Blue Campus Key Messaging:
Everyone in the U-M community has a role to play in creating a more sustainable future.
We can move toward sustainability, now and for future generations, through the actions we take as a community of more than 100,000 individuals.
U-M's 2025 Sustainability Goals track progress in four areas: Climate Action, Waste Reduction, Healthy Environments and Community Engagement.
There are 100+ sustainability-related student groups at U-M.
The University of Michigan's sustainability performance is recognized with a Gold rating by the international Sustainability Tracking, Assessment & Rating System. U-M is one of 124 institutions earning a gold STARS rating, and among more than 900 colleges and universities around the globe using the STARS reporting tool.
Planet Blue Campus — Logos
Download complete logo set here (.zip)
Included you will find:
Horizontal logos
Vertical logos
Social media marks – including a version with a white outline to be used on dark backgrounds
Planet Blue Campus — Marketing
Email Template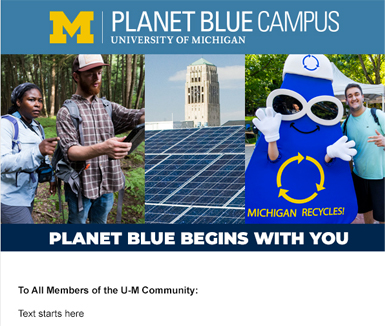 Primary Brand: Planet Blue
PLEASE NOTE: The Planet Blue primary brand logos should only be used for larger initiatives that don't fit neatly into one of the sub-brands.
ALL Planet Blue logos have been updated as of January 2021. If you are currently using an older version on your website, please replace it with the appropriate downloads provided below.
PRIMARY BRAND: PLANET BLUE – LOGOS
Download complete logo set here (.zip)
Included you will find:
Horizontal logos
Vertical logos
Social media marks – including a version with a white outline to be used on dark backgrounds
Colors and Typography
COLORS:
Color is often the strongest association an audience has with a brand. Our color palette can form strong emotional associations with our audiences because of its connection to the greater University of Michigan.
Our primary palette consists of the university's two main colors, maize (PMS 7406) and blue (PMS 282). They should be present and prominent in any communication we produce. The secondary palette supports the two primary colors to capture energy and interest. Never use these colors without the presence of Michigan maize or blue.
Visit the Colors section on this website to learn more about the U-M brand color palette.
TYPOGRAPHY:
For Planet Blue marketing materials, use a typeface with conventional letterforms, generous spacing and a tall x-height (the height of lowercase letters in relation to uppercase). To learn more about the legibility and readability of fonts, visit the Typography page of this website, which also includes font recommendations.
Photography

The photos used to represent the Planet Blue brand should be bold, dynamic and compelling. It should help convey the current state of global sustainability challenges and represent the many ways the U-M community is actively pursuing solutions through research, academics, outreach and campus operations.
Check our photo library for images available for Planet Blue communications and marketing.