PowerPoint template
Presentations play an important role in the academic world. Here are some PowerPoint templates to help you meet your specific needs.
App icon template
Email signature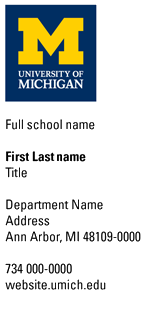 To include the U-M logo in your Google Mail signature, simply link to this URL: https://brand.umich.edu/assets/email-logo.png
You can create an email signature under the "settings" menu of your Google Mail account.
If you need assistance, ask your IT professional or contact idstandards@umich.edu.